Regular price
$81.26
Sale price
$66.07
Unit price
per
Sale
Sold out
Free shipping

Free shipping on all orders!
Returns and exchanges within 30 days

Returns and exchanges up to 30 days after receiving your order!
10% discount if you add it in the 🛒

Additional 10% discount directly in the cart. Valid on all items!

Unlock an additional discount when you buy multiple items!
The more you buy, the more you save! ❤️

Quantity discounts on the entire collection.

The more you buy, the more you save!

Buy 2 Items with 15% discount

Buy 3 Items with 20% discount

Buy 4 Items for 25% off
Larimar stone belongs to the mineral class of inosilicates. Its color is white / blue, with a predisposition of one or the other according to the single specimen. It has a triclinic crystalline system and is born thanks to the primary lithogenetic process. It is mined in the Dominican Republic. Only in recent years has this stone become known in crystal therapy . There are no particular indications of its uses in the past.
The only information that comes to us from the past, but which in reality is not directly addressed to Larimar but which makes us think of her, comes from a prophet of Atlantis who spoke of a blue stone with incredible healing powers.
This stone manages to align the energy of the crystal with both the mind and nature. It is considered the birthstone for adventurers and explorers. Larimar harmonizes, distributing energy in a balanced way.
Sharks are animals full of meaning, strongly related to the theme of energy and self-confidence. Many animals in nature are symbols of energy and the shark is certainly one of them. One of the most powerful messages regarding this animal has to do with flawless authority.
Regardless of how we look at these animals, we can consider them as survival machines: in fact, one of the values ​​with which this animal relates is survival. People who identify with this animal are generally very good at social relationships and at manipulating people and situations (not necessarily in the negative sense).
Some of the values ​​related to the shark are: being calculating, insightful, instinctive, ready, powerful, focused, mysterious, dynamic, curious, effective, innovative, superior, efficient, gifted and having an out of the ordinary sight .
People think sharks are violent and aggressive, but the fact is that they possess an animal instinct that may seem visceral to some people. It is an infallible instinct, which can always be counted on and which will always be ready to protect what is most sacred to this animal: its life.
Sharks are also a symbol of action, i.e. not waiting for things to arrive, but rather acting to make them happen: never wait for an opportunity, but create it.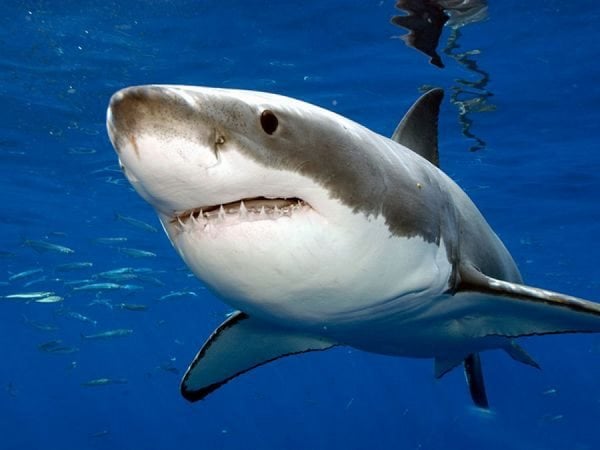 Another element that draws our attention is the way in which these creatures move: if we observe carefully we can in fact notice that sharks always move forward and this ensures their existence. This fact constitutes a valuable lesson, as we must always move forward and create opportunities, without waiting for them to appear: we cannot stand still and stagnate, but we must always go forward and backward just to take the lead.
This animal also teaches us another important lesson that has to do with death. For sharks, death is a false belief, it is something they have no concept of: they are in fact in a continuous state of renewal in which death is not seen as an end point, but as a transition point.
Sharks have an organism and a body that from tail to teeth are perfectly engineered: their biological mechanism and the way they manage to push themselves forward in the water are a clear example of this.
Speaking in terms of energy, the shark is also often associated with a cold temper. Sharks, aerodynamically speaking, are very efficient and this allows them to advance at great speeds in the water.
Some examples of adjectives used for this animal are: mysterious, togo, strong and alert. It is also often associated with prosperous businesses and people who are very smart in business. It is important here to point out an aspect of duality, since the element of water, with which the shark is obviously associated, is a symbol of emotions, dreams and intuition. And if we focus on the definition already explained above, we can see that the shark is not simply a symbol of emotion, but is a master of it. The lesson we can learn is that we can be inundated with emotional dramas, but we cannot let them drag us along. Finally, another element of these creatures is that they are very wise in the emotional realm, just as we should learn to be humans too.
Some of the messages that the shark gives us are: to be active in our life; follow our natural instinct; always go forward and never back to evolve and not let the emotions around us consume us.
are you not satisfied with your purchase? You will have the option to return it and receive a full refund within 30 days of payment.
View full details
Guaranteed quality

Over 25,000 satisfied customers worldwide.

Secure payment

We entrust the management of our online payments to Stripe and Paypal , 100% safe.

Money Back Guarantee

Returns are possible up to 30 days from receipt of the items.
4,98 su 5 stelle
Basato su oltre 300 Recensioni.
Visualizzane una selezione o inviaci una tua foto per ottenere un Buono da 10 €
Visualizza le Recensioni